Rust


Characteristics
Role

The Secondary Protagonist (after Sabitsuki drops all 25 effects)

Location

Sabitsuki's Room, .flow

Killable

No
Rust
is a playable character after collecting all 25
effects
, and then going into flow while in flow, thus examining you computer while in this state. Rust looks a lot like
Sabitsuki
, but with one difference, her hair and clothes are more detailed and her skin is more pale and her eyes are a very very very deep red instead of black. She can do many of the things Sabitsuki can, but cannot collect effects. However, Rust can access three areas where you were not allowed to enter. There are more
red demons
when you play as Rust in areas where
Kaibutsu
have previously been, or new areas.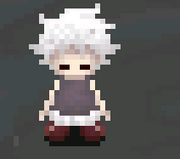 ◾If looked closely, Rust, whom is weakened to one more red demon before death, is actually a red demon, underneath her skin (noticing the horns and teeth) or is turning into one.
Rust may have been the diseased part of Sabitsuki or a seperate being.
People like to theorize that Rust may be Sabitsuki's alter ego and/ or a split personality.
Ad blocker interference detected!
Wikia is a free-to-use site that makes money from advertising. We have a modified experience for viewers using ad blockers

Wikia is not accessible if you've made further modifications. Remove the custom ad blocker rule(s) and the page will load as expected.